Section 3 held its Track and Field state qualifier event at Cicero, North Syracuse. South Lewis' Brynn won the overall 2000 steeplechase in 7:14.48, which was a new personal best. In the 3000 meters, Bernard placed 3rd overall and 1st in division 2 in 10:34.77. Brynn had a personal best time of 10:07 in the event which qualified her for the state championships but went for the win in the race. The state championships are in Middletown this coming Friday and Saturday and we wish her the very best!! Also competing for the Falcons was Mallory who placed 3rd in the division 2 3000 with a time of 10:48.35! Along with the 4x800 relay team of Aiden, MacCoy, Mitchell, and Michael. The team ran great placing 7th and anchor Michael ran a 7-second personal best time of 2:16! In the pole vault, Shelby tied her season's best height at 8'6" and Mitchell vaulted 10 feet. Fantastic work everyone!! #WeAreSouthLewis
Ledges Golf Course would like to offer free green fees for all students interested (12-18 years of age). This year there will be special requirements to receive those free green fees. We will require each student to participate in a class that will focus on the etiquette of a golf course and provides some instruction with golf coaches. This is being asked in order to foster a better golf experience for everyone. If you have any questions, please contact us at (315)513-4213 or
ledgesgolfcourse@yahoo.com
. Classes - (only 1 class required) Friday, May 26, 2023 at 5:00 PM Saturday, May 27, 2023 at 10:00 AM Friday, June 2, 2023 at 5:00 PM Saturday, June 3, 2023 at 10:00 AM Bring clubs if you have them. Meet at the driving range. * If you are currently on the golf team, you are not required to attend.
South Lewis Reading Rockets take 3rd place at the North Country Library System's Regional Battle!! The team went up against 10 other schools, being quizzed on numerous assigned books. All the reading, quizzing, and dedication really paid off. Congratulations!
Congratulations to XAVIER GIBSON and to CHLOE KRAEGER who are the most recent SOUTH LEWIS HIGH SCHOOL STUDENTS OF THE MONTH. Both students are members of the freshmen class and fill their time with sports and extra-curricular activities. Xavier is a football player and a member of the track & field teams. Xavier also had a rather memorable, comical performance in this year's high school musical. Thanks for those chuckles! Chloe plays soccer and softball and was a key player on the varsity volleyball team this past winter. She is also a member of GAA and knows the value of hard work and the importance of being a part of a team. We appreciate these young people and their willingness to share their time and talents with the South Lewis community. Keep up the good work!
South Lewis had a few big wins at the Tri-county Art Show this past weekend! Schools in the Tri-County area, come together to celebrate their student's hard work by entering 15 pieces per area,(elementary K-5, middle school 6-8, and high school 9-12). Everyone entered did a great job! Carin was the winner of 1st place Photography Portfolio and Mari won a 1st place ribbon and a Judges Choice award for 2D 6-8th grade. To win a large award in this show is very challenging, it shows all the hard work and dedication our students have. If you find time, stop by the state office building next week to see all of the fantastic work from South Lewis and our neighboring districts. Congratulations everyone!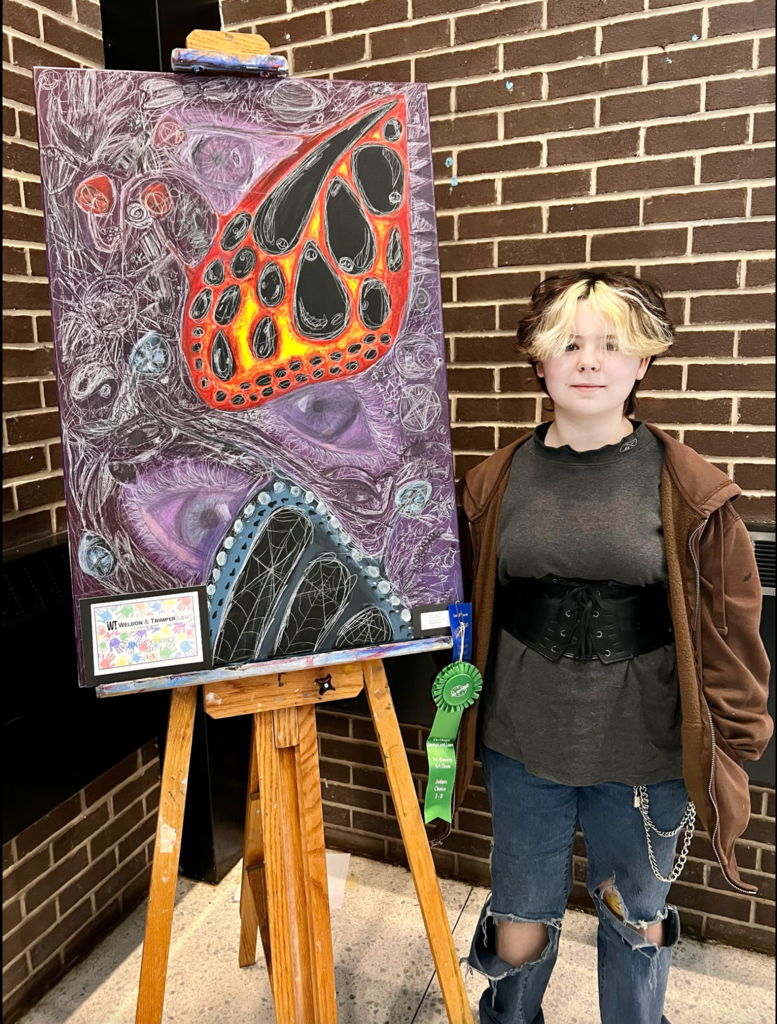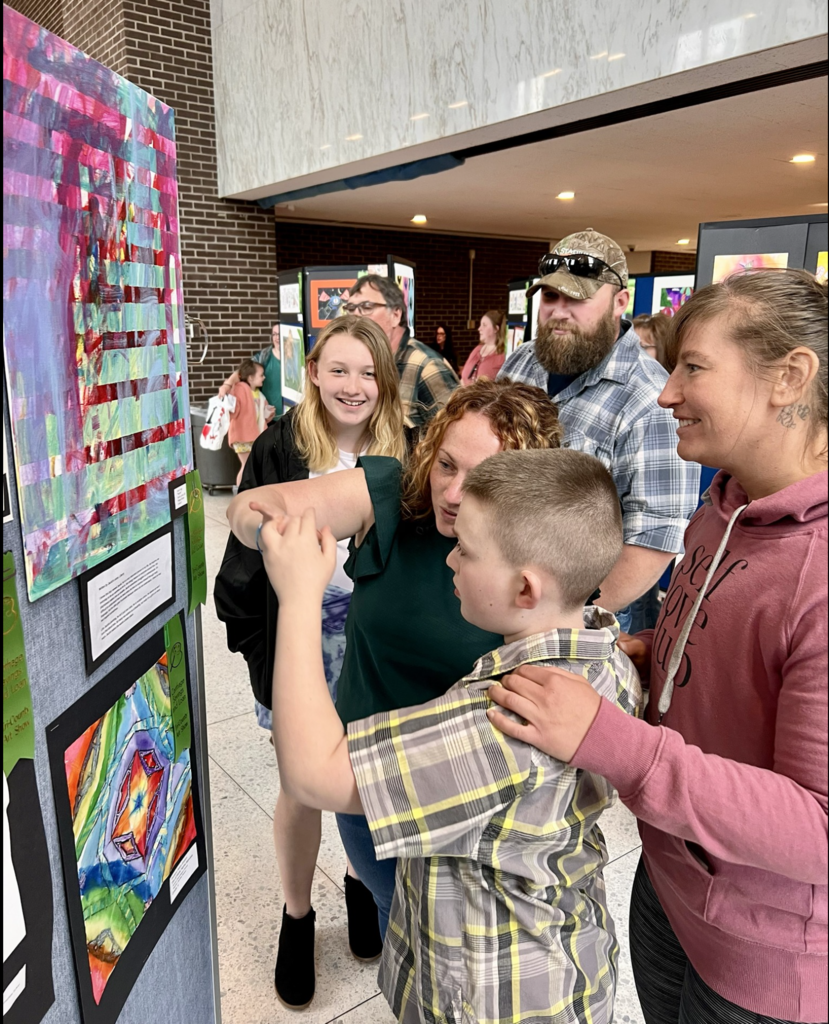 Emma Reid and Mason Youngs, the South Lewis Senior Class Leaders, were guests of honor at the Board of Education meeting on Tuesday, April 25. At the reception, Emma was joined by her proud parents, Andrew and Kristine Reid. Mason, who is the son of James and Cheryl Youngs, happily attended the event with several members of his family. What a great way to celebrate the educational achievements of our students and to acknowledge the district's priority of scholastic success. (And, also, it seems like a perfect occasion for cake....) Congratulations, Emma and Mason. Your hard work and dedication have not gone unnoticed.
Kylie Schell, director of Encompass Recreation, a local non-profit that aims to provide sports and recreational opportunities to youth with higher support needs, provided us with a "beta" version of their "Playground Core Communication Board". By using the communication board, students that struggle to communicate, no matter the reason, have an opportunity to share their needs and feelings, and those students that effectively communicate verbally can also use the board to "talk" with others. It's a win-win for everyone! South Lewis, along with two other schools will provide feedback on this new tool to Encompass Recreation to compile and create a single board for all local schools to have. Thank you for letting us be part of this project!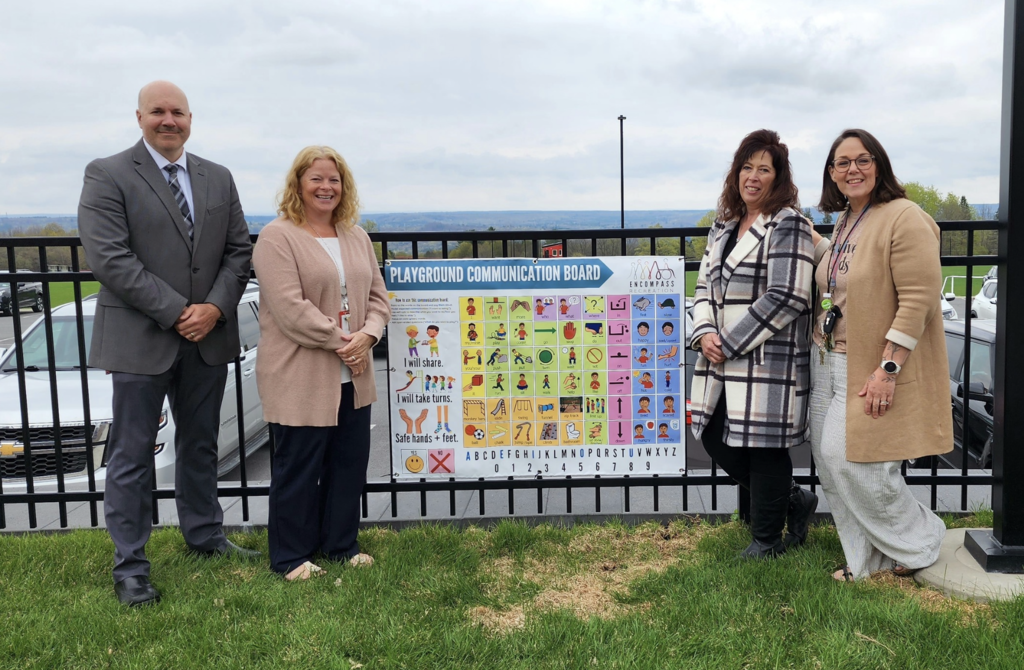 Let's hear it for these South Lewis High School Students of the Month for April. HOORAY for Katelyn Gigliotti and Andrew Golden! As a 9th grade student, Katelyn Gigliotti has a whole lotta (or is it "whole lotti"?) kindness and caring. She stays involved with the Falcon community and is always willing to lend a helping hand. Andrew Golden, a 10th grade student, is the guy with a golden smile (and it's worth a whole lotta more). Andrew is hard-working and kind and cares deeply for his friends and South Lewis family. Well done, young people! We thank you for sharing your light!
South Lewis 4th grade Lego League was busy being awesome this weekend! The two teams attended the FIRST LEGO League Explore Competition at Calcium Primary. Our "Windy Windmills", Cooper, Avery, Matthew, Kelsey, and Eagan won the "Core Values Award" demonstrating great teamwork throughout the challenge. And our "Epic Electric", Masen, Silas, Colden, Tobe, Lauryn, and Julianna won the "Challenge Solution Award". We are so very proud of your great teamwork, creativity, and problem-solving! Congratulations!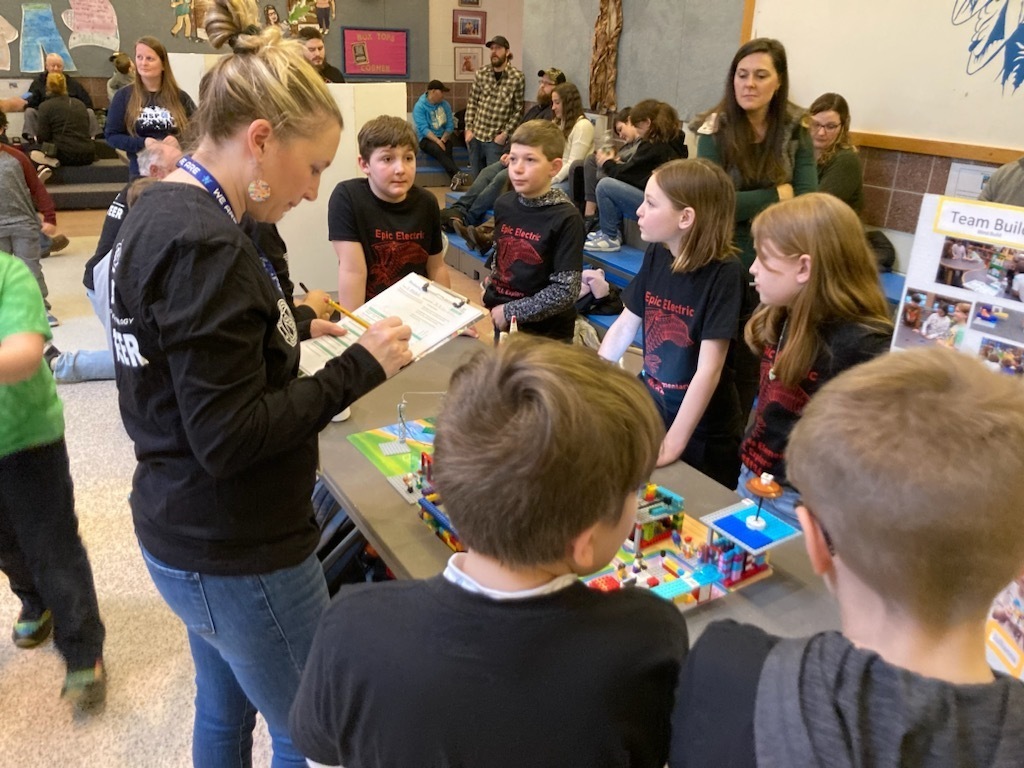 South Lewis Boys Varsity Club visited New York City for a fun-filled weekend. The trip included a Mets Citi Field tour, lunch at the Hard Rock, a Knicks basketball game, and a Rangers hockey game at the Garden. Thank you as always to the wonderful Mr. Smykla for joining this great group of guys on a terrific trip!
Due to weather conditions today, Tuesday, March 14, 2023, all students will be dismissed at 11:30 AM. There will be no PM UPK or PM BOCES. AM UPK students will be dismissed at 11:30 AM with all other students. The Board of Education meeting scheduled for tonight has been rescheduled for Tuesday, March 28th. Thank you. Have a safe day.
NBC Watertown wants you to nominate a deserving teacher from the North Country and they will be eligible to win a grand prize of a donut party for their students and $250 to go towards classroom improvements! Copy and paste this link to nominate a teacher!
https://nbcwatertown.secondstreetapp.com/CK2023/
Seventh Annual Lewis County Ag Trivia Challenge To benefit the Beaver River, Harrisville, Lowville and South Lewis FFA Chapters Saturday, April 1, 2023 at 6:00 PM at the Lowville Academy Main Gym $25.00 per person includes: Appetizers, dinner, beverages, desserts, and access to the ticket raffle, silent auction and a live auction. Join the local Ag Advisory Boards for an evening of fun and socializing with the agricultural community. Working as a team, 4-6 people will answer 25-30 trivia questions on topics including agriculture, FFA, and local history. Don't have a team? That's okay! Individuals are encouraged to register. **To register a team or make an individual reservation, contact any FFA Advisor by Friday, March 17th** Rachael Howard - South Lewis 315-348-2520
rhoward@southlewis.org
Melvin Phelps - Lowville 315-376-9015
mphelps@lowvilleacademy.org
Tara Taylor - Beaver River 315-346-1211
ttaylor@brcsd.org
Alexis Ebersol - Harrisville 315-543-2707
aebersol@hcsk12.org
Congratulations to Jaxtyn, Elementary School's Artist of the Month for March!
Nathalie is the High School Artist of the Month for March! Nathalie has been part of the art room for all of her spectacular high school career. She throws pottery on the wheel and has used almost every glaze we have with many dynamic combinations. She goes with her mood of the day and might be painting with acrylics, watercolors, or tempera. She also hand-builds creations with clay that is unique. Nathalie moves around the room sending love and good vibes to everyone. She is my mini-student teacher and a ray of sunshine.
Here it is: your moment of Zen. Thank you, HS PE instructors, Mr. Smykla and Mrs. Gino, for sharing Earth's beauty with our students. Each day our students snowshoe to the South Lewis back forty to breathe in the wonder of the world. They are calmer, wiser, and stronger for it. Om, Falcons!
Congratulations to Brynn and Collin who competed at the indoor track state championships this past weekend. In the 1500,Brynn placed 11th with a new personal best time of 4:44.80. In the 1600, Collin placed 6th with a new personal best time of 4:18.66. Both will be competing this weekend at the New Balance Nationals in Boston! Amazing work and dedication! We are so proud of you both. Go Falcons!
NOW HEAR THIS! South Lewis High School announces the February Students of the Month. Congratulations to Senior Skye Everson and Junior Jaime Howanietz. These two young ladies are caring and considerate, and both, with warm smiles, work every day to create a more pleasant world around them.. They are friendly and kind-hearted to other students and show respect to teachers and staff. We are so lucky to have students like these at the heart of the Falcon Family.
Blood Drive at the South Lewis Central High School Gym Thursday, March 16, 2023, 8:00 a.m. to 1 :00 p.m. Sponsored by: National Honor Society Please call the High School Office at 315-348-2520 or see an NHS Student Recruiter for your appointment. Sponsor Keyword: SouthlewisFalcons Appointments are encouraged and appreciated. Walk-ins welcome. Consider a Power Red Cell donation if you are O Neg, A Neg, B Neg or O Pos. Download your RapidPass and save up to 15 minutes at the drive! Visit RedCrossBlood.org/RapidPass on the day you plan to donate. Come give in March and get a $10 Visa Prepaid Card by email. Lend an arm; we'll lend a hand. Terms apply: rcblood.org/help.
South Lewis is hosting a clothing drive and we are extending the deadline for donations through the end of next week (3/10/23)! Please see the flyer below for more information.
https://5il.co/1p4aq